Financially things were never easy with six mouths to feed. Mother Sarah, as many other women, needed to find work. The local munitions factory, Nobel´s Regent factory in nearby Linlithgow, needed ´Munitionettes´ and the factory preferred women for this unpleasant and dangerous job as they had nimble fingers for dealing with fiddly shell caps and fuses! This was not the norm at the time as most, if not all, munitions factories were originally unwilling to accept women workers however as more men went away to war and Government pressure stepped up they had little choice. Food for the family of course and ´Keeping the home fires burning´ was essential!
A working life
The following three years also remain a mystery but, at the age of Seventeen and now a young man, Duncan began life as a miner in preference to becoming a front line soldier or sailor. He started ´down the pit´ in July 1917. However, in October, just three months later, his life changed and on 16th October 1917, he signed up (on the dotted line) with the Royal Navy. So what made him change his mind during that short period? Perhaps pressure from mining colleagues or snippets of news about the Battles of the Somme and Verdun which were raging or the effect of the Americans entering the war, whatever the reason.
A few weeks before, merchant ship losses in the September totalled 42 vessels and recent naval losses at Jutland included the world´s first battle cruiser HMS Invincible. Her destruction at the climax of the battle, along with all but six of her crew of 1,031 would haunt survivors and mourners alike for the rest of their days. Casualties included; First Class boy Andrew Turnbull Sinton aged 17 from Edinburgh and Signal boy James Bald, also 17 and from Edinburgh. This was very close to home for Duncan and joining up was a courageous decision for a young man Daddy, what did you do in the GreatWar?
One of the survivors from HMS Invincible was a marine, Bryan Gasson who had a remarkable escape. He was located inside HMS Invincible´s ´Q´ gun turret when it was struck by a shell and hurled into the sea:
"Suddenly our starboard midship turret manned by the Royal Marines was struck between the two 12-inch guns and appeared to me to lift off the top of the turret and another from the same salvo followed. The flashes passed down to both midship magazines. The explosion broke the ship in half. I owe my survival to the fact that I was in a separate compartment at the back of the turret".
Bournemouth University
It´s not clear whether Duncan served on ´active´ shipping or not. His service certificate notes service on HMS Pekin and HMS Victory which were both shore establishments.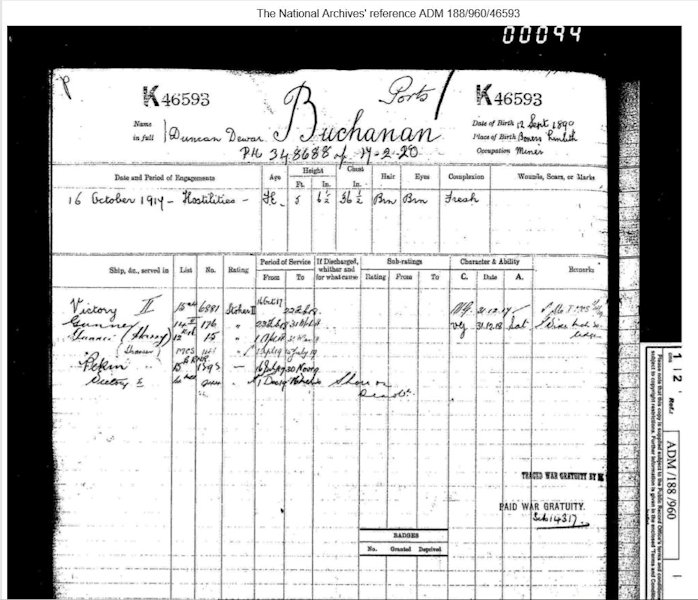 National Archives
Duncan remained in the navy until December 1919, a year after war ended and then returned to continue his mining career. Shortly after arriving home he married his childhood sweetheart, Margaret, on the 30th April 1920 at the United Free Church of Scotland in Edinburgh. They would go on to have four children, all girls, and many grand-children during their lifetime. Duncan senior continued working as a dock labourer at the main shipyard in Bridgeness, where they were commissioned to break-up a flotilla of German submarines. Other cargo ships and P&O liners such as the "Oriana and the "Orvieto" created a local spectacle when after being rammed up onto the beach at full steam, they were also ripped apart. My memories of him at the age of 65 were of a tall but stooped man with swept back white hair, stained brown with nicotine from the almost permanent ´Navy Cut´ cigarette he held between his fingers. When he died in 1972 he had outlived two of his four daughters,Marie, Magga, Isa and Jean.
Frank T Connelly October 2019